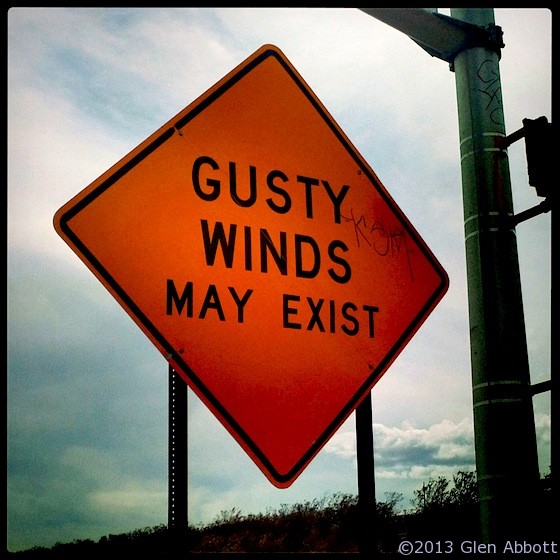 Along the interstate in northern New Mexico, a series of existential highway signs proclaim, "Gusty Winds May Exist."
Sure, they're saying, gusty winds may exist — somewhere, sometime — but we [meaning the state of New Mexico] don't really want to go out on a limb and commit to saying that they exist here, at this particular moment in time. 
But naturally, if gusty winds do happen to exist here, don't say we didn't warn you.
So I googled "gusty winds may exist" and discovered I'm not the only one struck by the irony of the phrase.
From someone's flickr page: "…the New Mexico Dept of Transportation employs philosophy graduates to write the road signs…"
From an academic journal: "The curiously existential quality of the wording always makes me think, as we ride past it, 'Gusty winds DO exist, but not HERE, not just NOW."
From someone's blog: "This seems more like lazy philosophy than safety advice."
There's even a musical duo that goes by the name Gusty Winds May Exist; naturally, they play wind instruments.
___________________________________________________________________________________________________________________________________________________________________________________________
New Mexico Tourism: www.newmexico.org (maybe they can make some sense of their state's highway signs!)