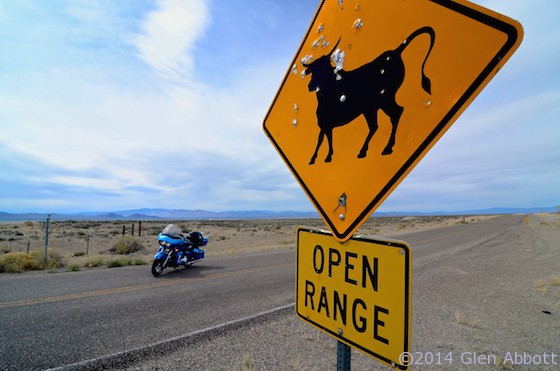 The sign here should read, "WIDE open range." Taken on a side road just off U.S. 50 (known as the "Loneliest Road in America") in the middle of  Nevada, this is the kind of place where you can position your bike in the middle of the road and not have to worry about having to move it because of traffic — there isn't any.
One of my all-time favorite motorcycle rides, this 2011 photo always brings a smile.
I was riding a 2011 Harley-Davidson Road Glide Ultra (the 2015 model is called the Road Glide Special), in a shade of blue perfectly matched to the sky. My story about the trip, "Ghosts of the Open Road," was published in HOG magazine's summer 2011 issue (#011).