[New Orleans, LA] — To my way of thinking, there's never a bad time for a Po-boy. The iconic New Orleans overstuffed sandwich originated in the 1920s during a strike of unionized streetcar conductors. A local restaurant — in support of the workers — provided free sandwiches to the strikers, who they called "poor boys." Over time, the sandwiches also came to be known as "poor boys," which was eventually shortened to "po-boys."
Today, there is a certain school of journalistic thought which insists on calling the sandwiches "Poor Boys." Uncultured louts, if you ask me. If you follow their logic, we'd still be using archaic spellings such as "olde" and "tyme," and referring to the internet as the "World Wide Web." But I digress.
Po-boys are served on fresh French bread with a variety of fillings: roast beef, fried shrimp, fried oysters, and fried soft-shell crab are among some of the traditional ones. When you order a Po-boy in New Orleans, they'll ask you if you want it "dressed." Trust me, you do. "Dressed" means it comes with shredded lettuce, tomato, pickle, and mayonnaise, the way God intended. Adding a dash of Tabasco sauce is a good idea too; go ahead, you can thank me later.
Each year, the merchants of Oak Street in New Orleans Uptown area get together, close off several blocks, and hold the best damn Po-boy festival you've ever seen. There's food, music, strolling beer vendors, and of course, Po-boys, from over 40 different restaurants. Last year the festival attracted over 50,000 visitors.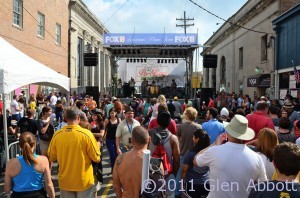 The experience is almost overwhelming. I overheard an attendee telling her friend, "My God, we've hit the Mother Lode!" which is as good a summation of the Oak Street Po-Boy Festival as you're likely to hear.
The whole experience is great fun, and the people-watching is almost as good as the po-boys. Enjoy!
FOR MORE INFORMATION:  www.poboyfest.com