[Las Vegas, NV] — A nondescript office building on East Flamingo Road in Vegas holds secrets to America's Atomic Age, and you don't have to read WikiLeaks to learn them.
On January 27, 1951, the first atomic bomb test was conducted at the Nevada Test Site in the remote desert north of Las Vegas. The mushroom cloud could be seen in downtown Las Vegas, over 50 miles away. Atmospheric, above-ground nuclear testing continued at the site through 1962, then went underground through 1992. Today the area is called the Nevada National Security Site and comprises over 1,300 square miles of desert terrain.
The Nevada Test Site Historical Foundation has done an admirable job documenting the test site's impact on local, state and international history. The 8,000 square-foot Atomic Testing Museum, an affiliate of the Smithsonian Institution, features displays and artifacts from America's Atomic Age. A special exhibit, running through January 5, 2012, is titled "Building Atomic Vegas," and helps explain the city's historic and cultural ties with the Nevada Test Site.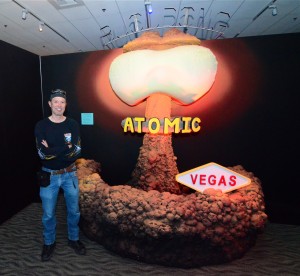 On a recent motorcycle ride through Nevada, which I wrote about in an article called "Ghosts of the Open Road" for HOG Magazine, I visited the museum. Because of limited space, I didn't include the museum visit in the article, but it is a place worth visiting and provides fascinating context to America's Cold War nuclear history.
FOR MORE INFORMATION: www.AtomicTestingMuseum.org
755 E. Flamingo Rd.
Las Vegas, NV 89119
702-794-5124