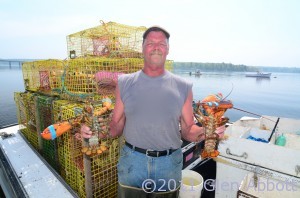 [Along the Maine Seacoast] — When you think of Maine, what's the first thing that comes to mind? Is it lobster? The clawed crustacean is certainly one of the state's iconic symbols. And Maine lobster is known for its taste and quality, due to the state's clear, cold waters. Lobstermen and women harvest their catch working from small boats, using wooden or mesh traps.
Maine lobster certainly is popular: almost 90 percent of lobster sold in the U.S. comes from this state. Last year, lobsterman harvested a record 93 million pounds with a value of $300 million. That's a lot of lobster rolls.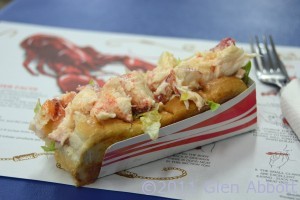 So what's the best way to eat lobster? Naturally, opinions differ. You can have it boiled, steamed, baked — on Mexico's Baja Peninsula I've had it grilled — but my personal favorite method of consumption is the lobster roll, a simple yet elegant treat: chunks of fresh lobster claw meat, mixed with mayo and served over lettuce on a buttered, lightly-toasted hot dog bun. "That's a traditional Maine lobster roll," Brendon Alterio, manager of Harraseeket Lunch and Lobster in South Freeport told me. "Simple but tasty."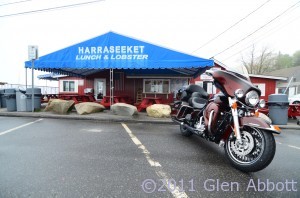 As part of my "Lighthouses, Lobster, and Living to Ride" story for HOG magazine, I made it my mission to sample a few lobster rolls along the Maine seacoast. I'll leave it to others to decide who's got the best, but I will tell you that of the four or five places I tried, there wasn't a bad one in the bunch.
FOR MORE INFORMATION:
Harraseeket Lunch and Lobster: www.harraseeketlunchandlobster.com
Maine Lobster Council: www.lobsterfrommaine.com
Maine tourism: www.visitmaine.com