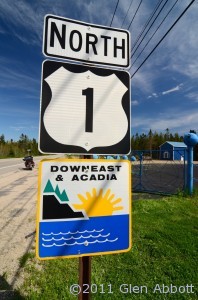 [Downeast Maine] — It's a curious fact that as you travel north along Maine's seacoast, you're said to be heading downeast. For that we can thank the seafarers of yore (not mine, yore), who sailed northeast from Boston to Maine with the wind at their backs, and referred to the trip as heading Downeast.  The Downeast region extends from Penobscot Bay to the Canadian border.
The men who settled these towns were seafarers and lobstermen. Riding north on Route 1, you'll see lobster traps stacked next to weathered-shingle shacks and fishing boats propped up on barrels in backyards awaiting a fresh coat of paint.
At Cutler Harbor, moored boats bob in the tranquil water, glowing golden in the late afternoon sun. In the nearby town of Lubec, the West Quoddy Head Light sits at the easternmost point of the United States. Constructed in 1857, its red and white candy-cane striped tower is one of Maine's most photographed lighthouses.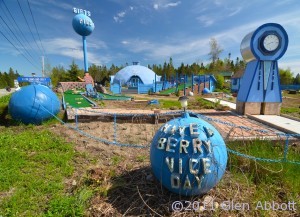 If you come to Maine at the right time of year, you'll also see lots and lots of blueberries. Maine is the country's number-one producer of both the wild and cultivated varieties of the fruit. In the small town of Columbia Falls, I arrived just a few days too early for the opening of Wild Blueberry Land — a one-stop shop for all your blueberry needs. "We sell everything blueberry," owner Marie Emerson told me. "And we make it from scratch. We're most famous for our pie."
As Maxwelll Smart used to say, "Missed it by that much."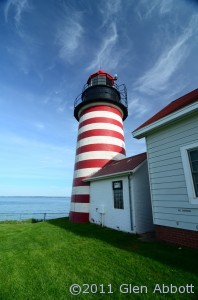 FOR MORE INFORMATION:
Maine Office of Tourism: www.visitmaine.com
West Quoddy Head Light Station: click here
Wild Blueberry Land (facebook): www.facebook.com/pages/Wild-Blueberry-Land/150076515062559