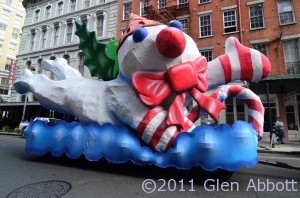 [New Orleans, LA] — Probably only in New Orleans do they throw Mardi Gras beads from floats in the Christmas parade.
A winter wonderland, it ain't. Warm weather, no snow — that's the way, uh huh, uh huh, I like it.
Led by the historic Mr. Bingle — N'Awlins' version of Frosty the Snowman — the fourth annual Krewe of Jingle Holiday Parade featured floats, marching bands, and such colorful krewes as the Rolling Elvi (they describe themselves as overweight gentlemen who dress like Elvis and ride motorized scooters) and the Pussyfooters Marching Club (a group of pink bustier-clad, over-30 women described on their website as "Majorettes from the Mothership sent here to help the party people get their groove on.")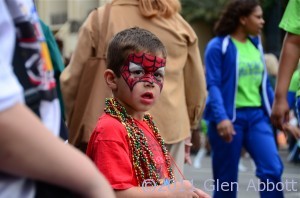 Kids and adults alike clamored for thrown beads and tchotchkes, danced to the marching bands, and waved to Santa at the parade's finale. The event, part of "Canal Street Home for the Holidays" celebration, was sponsored by the Downtown Development District and the Roosevelt New Orleans hotel.
A family-friendly celebration, with an "only in New Orleans" twist!
FOR MORE INFORMATION:
"Home for the Holiday" events: www.canalstreetholiday.com/events.html