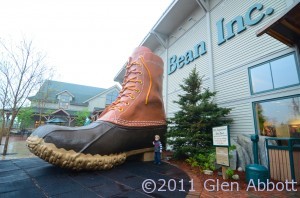 [Maine seacoast] — In what may be my most confusing blog title ever, I've incorporated three disparate elements all found in the state of Maine: Whoopie Pies, LL Bean, and the Maine Maritime Museum. Lest you think there is some deeper meaning in this, there isn't. I'll give you the simple explanation — I'm wrapping up a series of posts about my motorcycle trip to the Maine seacoast, I had photos I hadn't previously used, and felt these elements deserved further mention.
So off we go!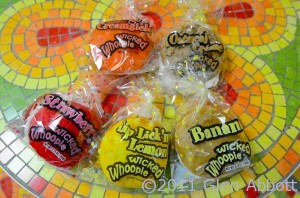 First, the Whoopie: Whoopie pies are an iconic Maine treat. In fact, they've been recognized by the state's legislature as the official state treat. Maine also has an official state dessert, which is the Maine Wild Blueberry Pie (read more about Maine's wild blueberries in an earlier post here). What is a Whoopie Pie, you ask? Put simply, it's a cake-like, frosting filled sandwich. There is some dispute about where the Whoopie originated, Maine or Pennsylvania, but I'll leave that to others to decide. Ironically, I first discovered Whoopie Pies in Silver Springs, Florida, about a year ago while on another motorcycle trip. I wrote about that in There's Always Time for Whoopie. So I was well-prepared for my visit to Wicked Whoopies' Freeport, Maine bake shop. Sales person Sue Corson told me the company sells between 8,000 and 10,000 of its pies daily, between its two stores and online — that's a lot of Whoopie! The "Classic" Whoopie Pie is its best-seller: chocolate with vanilla cream, but there are seemingly endless varieties, and all that I tried were delicious.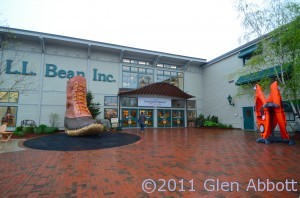 Next up on the Maine Hit Parade is LL Bean. If you haven't heard of them, you've probably been hiding under a rock all these years. Started by Leon Leonwood Bean (his parents obviously liked redundancy in names) in 1917, the sporting goods and apparel store is known worldwide. Its 160,000 square foot flagship store in Freeport is open 7 days a week, 365 days a year (they famously "threw away the keys" in 1951), so if you have a hankering for a moose call or a fishing lure at, say, 2 AM, this is where you want to go.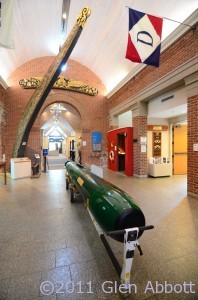 One of my final stops on the Maine Seacoast was the Maine Maritime Museum in Bath, a city that boasts a 400-year history of shipbuilding. At one time there were 200 shipbuilders here, including the Bath Iron Works, founded in the nineteenth century and still in operation.  The Maine Maritime Museum consists of part of the old Percy and Small Shipyard, among the last to produce wooden ships in Bath. The museum's buildings house a fascinating display of maritime memorabilia, exhibits on lobstering and shipbuilding, and five of the shipyard's original nineteenth century buildings and Victorian shipyard-owner's home.
So that's the story. Maine month on the Travelin' Gringo is complete; I've posted some of my favorite photos and written about some of my favorite places. I traveled the state's seacoast, so there's still lots to discover. I hope to make it back soon.
FOR MORE INFORMATION:
Wicked Whoopies: www.wickedwhoopies.com
LL Bean flagship store: www.llbean.com
Maine Maritime Museum: www.bathmaine.com
Maine tourism: www.visitmaine.com