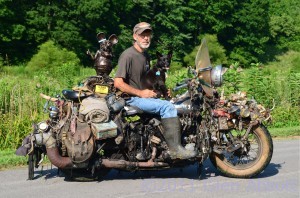 [Flat Lick, KY] — To some people, a Rat Bike may look like a two-wheeled, rolling junk pile, an ancient motorcycle with random, added-on bits and pieces in various stages of hanging — or falling — off.
But as the cliche goes, beauty is in the eye of the beholder. For Rat riders — a very small, very devoted biker subculture — every added-on piece, every tchotchke, every Rube Goldberg-like device has special significance.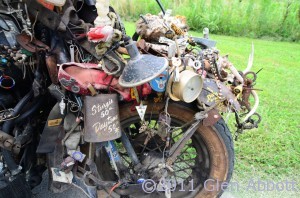 "Most of the parts that's on it, most of the small stuff, is from people I've met and places I've been," says Conrad "Smitty" Smith of his '46 Harley-Davidson Knucklehead rat. "It's got items — souvenirs — on there from basically around the world."
I met Smitty for the first time at Daytona Bike Week earlier this year, but I'd first seen him there with his bike, Rat-1, several years earlier. The 62-year old long-time biker from Flat Lick, Kentucky has missed only one of the annual events since he bought his machine in 1976.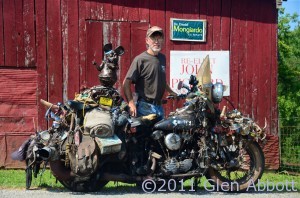 "The guy I got it from, his name was Uncle Bucky," Smitty told me. "It was a rat when I got it, so I just kept that theme. It was dirty, hadn't been washed and just looked rat." Since then, Smitty has adorned his beloved Rat-1 with all sorts of personal touches, everything from a vintage Evel Kneivel lunchbox — signed by the man himself — to one of the dozens of trophies he and the Rat have won.  "I figure I've won, in different shows all these years, between ten and eleven dozen trophies."
And with trophies has come a certain amount of fame for Smitty. "The Rat Bike's been in about every American [motorcycle] magazine, and most foreign magazines. And a few interviews on TV and in newspapers," he says proudly.
There are probably fewer than a dozen authentic Rat Bikes in the US. Others have tried to copy the look, spray-painting an old motorcycle flat black and adding trinkets all at once, but that's not what being Rat is about. A real Rat evolves over the passing of time.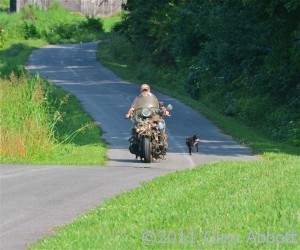 Make no mistake about it: a Rat Bike is a work of rolling art. By definition, no two can ever be alike, since each is personalized by its owner with adornments that have personal meaning. And Smitty is a philosopher, as well as an artist. "I figure a little bit of Rat is in everybody," he proclaims. "It's just some of 'em keeps it — kinda like a disease — keeps it warded off, by washin', cleanin', you know, this and that. I don't have to shine it; I use no chemicals on it, so I'm kinda environmentally 'green.'"
You can't argue with that. Some parting words of wisdom: "You look at it — and a lot of people have commented — it's art," he says. "You know, I can look at it too and say, yes, this is my work canvas, my painting canvas, this is my art. You turn rat — the word rat, R-A-T — inside out and what have you got? A-R-T!"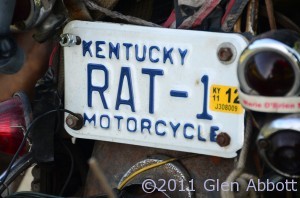 FOR MORE INFORMATION ON RAT BIKES:
I've been fortunate in my travels to meet a couple of the top Rat riders in the country. Andy Anderson of DeLeon Springs, Florida, who I met at the 2009 Daytona Bike Week, has an amazing '62 Harley Panhead rat. You can read about him in a post from last year, "King Rat, the Evolution of a Man and his Motorcycle."