[Knoxville, TN] — When you think of Tennessee, you might not immediately think of brewing beer or making wine. If you're like me, you probably associate it with whiskey, as Jack Daniel's is distilled in Lynchburg.
Some Knoxville entrepreneurs are looking to change that, however. The city is host to Tennessee's first urban winery, as well as its only packaging microbrewery.
Blue Slip Winery, located in Knoxville's historic Old City district, uses fruit from Tennessee orchards and vineyards to produce artisan wines. The grapes and other fruit are crushed, fermented, and bottled on-premises. Products include strawberry, blueberry, peach, and blackberry wines, as well as the traditional grape varieties.
Since opening in 2009, owner Linn Slocum has seen a steady increase in business. "We're the only place in Knoxville you can buy wine on Sunday," she says with a smile.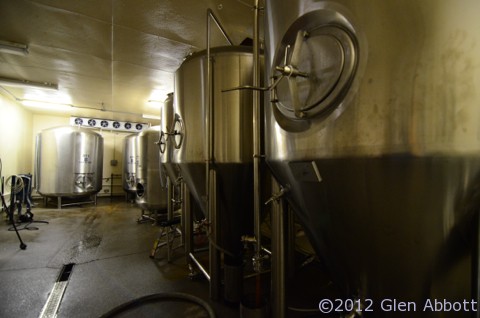 Saw Works Brewing Company is just a few blocks away. They've been in operation since 2010, but adopted the Saw Works name just recently, as its property was originally a sawmill, and later a saw works. Saw Works Brewing is the only packaging brewery (i.e. not a brewpub) for 90 miles around, according to owner Adam Palmer.
Their flagship brew is an English Pale Ale. When I visited the brewery a week ago, they were still in transition (their former name was Marble City Brewing), and the beer wasn't ready to drink, but head brewer Dave Ohmer let me try some poured right from the tank. It wasn't carbonated yet, but it tasted pretty darn good to me.
Good reasons to keep in mind that there's more to drink in Tennessee than whiskey!
FOR MORE INFORMATION:
Blue Slip Winery
105B West Jackson Ave.
Knoxville, TN 37902
(865) 249-7808
Saw Works Brewing Co.
708 East Depot Ave.
Knoxville, TN 37917
(865) 247-5952
Knoxville tourism: http://www.knoxville.org/
Tennessee tourism: http://www.tnvacation.com/
PHOTO GALLERY: