[Ellison Bay, WI] — Here in Door County, Wisconsin, they take their history — and their fish boils — seriously.
I've come to Rowleys Bay Resort near the northeastern tip of Door County for a real, old-fashioned fish boil — one that comes with its own historical re-enactor.
"A fish boil is where we cook the fish, potatoes and onions outside on the fire, and at the end of the cooking time, we do a boilover," explains Jewel Peterson Ouradnik, the resort's owner. "What we do is we intensify the heat of the fire by putting fuel oil on the fire. The fire then boils over, so the oils come off the top, and then we pull the fish out."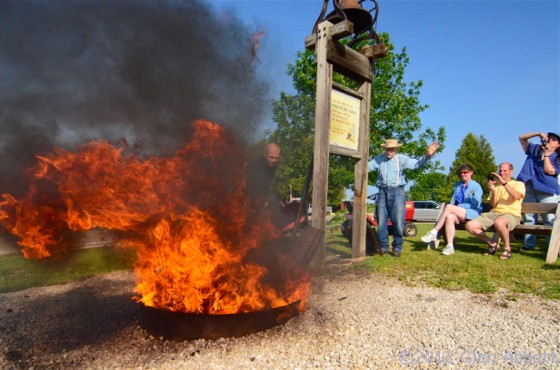 At its flashpoint, the boilover becomes a raging inferno. Flames surround the cast-iron cooking kettle and shoot skyward for a few brief moments until the kerosene burns off. Most impressive.
The tradition of fish boils originated with Door County's first European settlers. Whitefish were plentiful in the cold waters of Lake Michigan, and a boil was a simple and economical way to feed hungry families.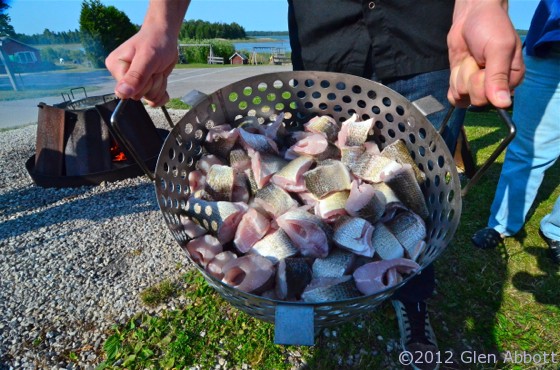 "Fish boils started when the Norwegians and the Swedes came to this country from the old country," explains Charles Dickson, the historical re-enactor who plays the part of Peter Rowley, one of the original settlers who came to what is now known as Rowleys Bay in 1840.
"When they would come in with their catch," Dickson continues, "they'd come to the shore and all the people would come down to see how big a catch and so forth. The Norwegians were a happy bunch, and they just invited everybody to come and eat."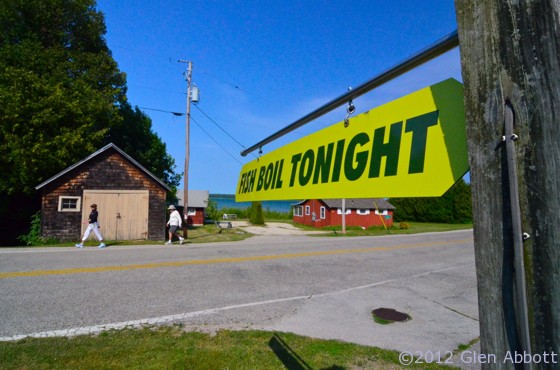 Nowadays, fish boils are a Door County tradition, along with Door County cherry pie (more about that in an upcoming post). Rowleys Bay Resort offers their traditional boils, complete with storyteller, on Monday, Wednesday, and Saturday nights, part of the resort's all-you-can-eat buffet. Show up at 4:30; they'll ring the dinner bell when the fish is ready!
FOR MORE INFORMATION:
Rowleys Bay Resort
1041 County Road ZZ
Ellison Bay, WI 54210
(800) 999-2466
Door County tourism information: www.doorcounty.com
(800) 52-RELAX