by Jack Stevison, guest blogger
Never tell an endurance rider that his bike is too small, the road too long or too dangerous, or that he should be careful.  In fact, if you're going to offer words of advice or concern at all, something along the lines of "keep your head on a swivel out there," or "don't take any wooden nickels," would be more appropriate and useful than "please be careful."
I just finished a ten-day vacation during which I rode my Harley Sportster 1200 Custom from Colorado Springs, Colorado (my current hometown) to Columbus, Ohio and back, logging a little more than 3,100 miles during my journey.  I was/am living in an evacuation zone for the Waldo Canyon Fire, so I started my trip a day earlier than I had originally intended.  I had a logistical concern at the outset: I have a cat, so a good friend of mine helped me get her squared away before the trip so that I didn't have to worry about her safety.
I was amazed at how ergonomically seated and comfortable I felt during the ride. The luggage that I had strapped to the bike seemed to provide the extra back support that I needed for extended hours on the road.  But the heat proved difficult, and challenging.  I left Colorado Springs at 6:30 am, but by the time I hit the Kansas border it was already sweltering.  I saw temperature readings of 106 degrees most of the way across "America's Bread Basket," and was forced to take breaks more frequently than I had planned.  Instead of pulling over every two hours, I decided to stop every hour.
My experience in marathon running probably gave me an advantage compared to someone else who might try an endeavor like this. For example, I knew that I was getting dehydrated well before the effects of dehydration set in.  I became a big fan of the frozen strawberry lemonade drink that McDonald's sells – I sucked one of those down at every stop that first day.  One lesson learned from the standpoint of preparation is that I need to attach some sort of drink holder to my handlebar – it would be great to carry a Gatorade or something to enjoy without having to wait another hour before hydrating.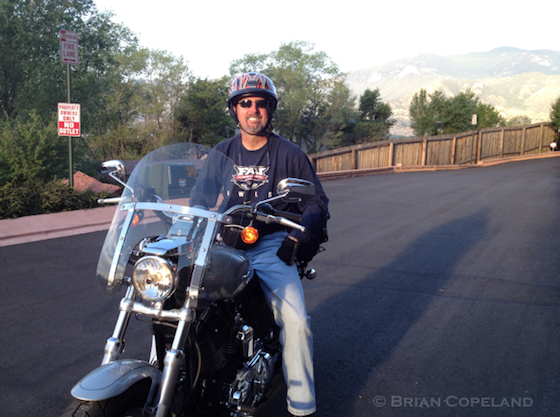 One thing that I did not expect but was looking forward to was meeting other bikers on the road.  When you're trapped in a car traveling down the highway, you're just another box on wheels with no personality, heading in your chosen direction.  Previously, when I had seen a biker from my car, my first thought upon seeing that person loaded for travel was, "what's his story?"
Stopping in Oakley, Kansas, I noticed another motorcycle rider at the gas station, and we struck up a friendly conversation. His name was Ron and he was headed from Denver to Birmingham, Alabama, and needed to do it in two days.  That worked out to something like 800 miles per day, a very aggressive goal, so he was leaning into the speed limit, to say the least.  I think our first words were something like, "hotter than a bitch, eh?"
We decided to share the road together with the understanding that if I felt he was driving too far over the limit to reach his goal, I would let him go.  We made a few stops together and got to know each other's stories over a couple of those McDonald's frozen drinks.  I let him go at Junction City, Kansas with a wave, as I needed to pull over to get a picture for Harley's ABCs of Touring contest — I needed the 'J.' I nicknamed my first road friend "Alabama Ron," as that would help me remember his story when I wanted to tell it later.
I thought I could make my 1200-mile journey in two days, which was an aggressive target according to my friends in the local Harley Owners Group.  I had a contingency plan, though; I was prepared to stop for the night after only 400 miles, which would extend the trip to three days. I was able to reach Oak Grove, Missouri, and stop at the KOA Campground, but had only two hours of daylight left to set up my camp – those frequent stops had really taken a toll on my clock.
I showered off the road crud immediately after setting up the tent, and enjoyed a pleasant evening of updating friends and family via texts and phone calls. One of the things that gave me a lot of confidence during this trip was the fact that we have such powerful technology at our fingertips these days. In the palm of my hand was a device that could check the weather, monitor market conditions for clients, call friends to let them know that I was safe, and check on traffic conditions.  I couldn't help but wonder what it must have been like for those bikers long ago who only had their bike and their wits to depend on.
The second day of travel was about as uneventful as could be, until Indianapolis, Indiana, that is. From there, I was chasing a midwest "hurricane" that was running from Chicago, Illinois, to the Atlantic Ocean with winds that blew through my hometown of Dayton, Ohio, at approximately 85 mph.
I had donned my rain gear upon entering the tail end of the storm, and if there's a lesson to be learned during that particular part of the trip, it's that I should have checked the weather radar (there's an app for that!) right when I saw the big black clouds that I was chasing instead of riding right into the rain and having to suit up.  Once I reached the Ohio border I stopped at a rest stop and chatted with another biker who told me it was "hell in Dayton at the moment."  When I finally took off, I was driving on dry roads again even though the storm loomed ahead of me for the rest of the ride.
I'm going to skip over the middle part of my trip, except to say that I had a wonderful time in Dayton seeing old friends and spending some time with my high school girlfriend, Debbie.  We had an awesome time together and she introduced me to some motorcycle-riding friends of hers; we had a pack of four bikes riding to breakfast together on Sunday morning.
I had forgotten how beautiful the farmland surrounding my hometown is — especially the rolling hills and fields full of corn almost ready for harvesting.  I had not seen my hometown in summer for many years, as most of my visits have been for Christmas.
On Sunday afternoon I got to see two old friends, Mark and Vic, for lunch before heading to Columbus to see my sister get married.  While in Columbus, I rode around central Ohio and gained more points for my touring contest, capturing the very difficult letters of 'U' for Urbana, 'X' for Xenia, and 'Z' for Zanesville.  After the wedding, I went back to Dayton and saw a client for lunch (up from Tampa every year for the 4th of July), and then I spent another night with Debbie before starting my trip home.
I decided to make the return trip in three days so that I could enjoy stopping for photos and not worry about the clock. I was also going to make a concerted effort to avoid the interstate highways if possible.  As I was cruising along the National Highway — another name for US40 (something I just learned on this trip) — a guy in Indiana rolled down his pickup truck window at a stoplight and asked, "Has it been a rough trip?"  I responded with, "You're kidding right? This has been one of the best adventures of my life!"
Once again, though, heat was an issue; the thermometer read 103 when I landed at the KOA in Springfield, Illinois.  If there is a lesson to be learned from this leg of the trip, it's that sometimes it's okay to say, "F%&* this, I'm staying in a hotel for the air conditioning!" but I was trying to keep costs low so that I could be out there on the road for more days. The heat didn't dissipate until midnight, so the extra $30 would definitely have been worth it.
Another camper had set up a tent not too far from mine, and we became friends if for no other reason than by default; he was my new neighbor.  His name was Ray and he was from Nebraska.  He works a winter job somewhere in some small town and takes the summer to drive around the country and see stuff.  "Nebraska Ray" has seen a lot of this country and was more than happy to share his stories with me.  His mission after leaving the campground was to see a bit of Route 66, which was apparently close by.
Nebraska Ray then offered to drive us in his car to the home of the Original Cozy Dog — which is just a corn dog on a stick — but supposedly it's the first such restaurant that sold them. They were about as delicious as you can imagine a corn dog being. I don't think I've ever had one outside of a state fair, and for good reason — they're not that good, original or not.
The temperature tapered off fast overnight as the jet stream had finally dipped south and brought with it cooler temps. I got up at the crack of dawn, something I do even when I am not camping, and made it out of the campground before any of my neighbors made a peep.  I've learned that dawn is my favorite time to ride, especially when it's "75pc60" outside, which stands for 75 degrees, partly cloudy, and 60 percent humidity. I was in heaven as I cruised out of Illinois and into Missouri.
I don't listen to music when I ride, something that some of my friends like to do on their big bikes with all of their gadgets.  I have always run without music, so it seemed natural to me to not even think about having music on the bike.  After all, this was an endurance event, much like my running, and I wanted my mind free to allow whatever thoughts would enter my head.  And funnily enough, I can't even hear myself talk on the bike over the noise of the wind rushing by, so what I have learned is that I can talk to myself without having to hear myself talk.  But as I type this I am still talking out loud, so old habits die hard — but I already knew that.
I had planned to stop in Salina, Kansas, for my last night on the road and I was going to reward myself with a hotel stay for all the conveniences that a hotel offers.  I was back on US40 entering Kansas, and I have to tell my fellow bikers, those guys in Lawrence, Kansas, have a beautiful road with US40 going through there. It rolls gently along with nice turns to lean into and good scenery. Get off I-70 at the last free exit and take US40.  You won't regret it, and you avoid paying the Man for the right or the privilege to travel through.
Topeka brought a big rainstorm, and just before entering the mess, the road offered a few overpasses to hide and make the decision about whether to put on the rain gear or wait it out. I stopped at the same spot as another biker, and he was checking his phone's weather app as I looked at mine.  As amateur weather guessers, we concluded that the storm was crossing the highway from north to south and would soon be out of concern for us.  "Missouri Don," who was traveling from his hometown in Missouri to Denver on travel orders for a government job, was also planning to stop in Salina, which was his half-way point as well as my two-thirds point.  I told him that I was on a mission to get pictures for my ABCs tour, so not to count on me for company the rest of the way. We agreed that if we saw each other in Salina, we'd have a beer together.
I checked into the Days Inn in Salina and asked the receptionist where I could get a burger and a beer. I must have looked the part because she sent me to a biker bar called Maggie Mae's.  I had just finished my burger and beer and was walking out the door when Missouri Don pulled up on his bike.  He said that he'd asked the receptionist at his hotel for a place to get a burger and a beer, and she'd sent him to the same bar. Two different hotel receptionists, same recommendation.  Imagine.  Missouri Don and I shared a few laughs and road stories and then parted ways.
The next morning, along with the benefit of cooler temperatures came some summer thunderstorms and gray skies, though the guy on the Weather Channel actually used the phrase "stray thunderstorms."  I had to think about that one a moment.  He used the word Stray, versus Random, or Isolated, or even Rogue.  Stray, like a dog that got loose from the yard.  I put on and took off my rain gear three different times that last day as I made my way home.
When I finally made it back to Colorado I stopped for lunch at the same diner where I stopped for breakfast on my way out of the state on the first day — the Green Chili Grill on US40 in Cheyenne Wells, Colorado.  Misty is part owner (with her husband, I think) and chief short order cook.  The burger that I enjoyed for lunch on the last day was every bit as delicious as the breakfast she made for me on Day #1, and I will stop there on every one of my trips east out of Colorado whether I am hungry or not.
It was raining like hell in Colorado Springs as I pulled up to my home, something this area could've desperately used when we were chased from our homes because of that damned forest fire more than 10 days prior.  But that's how it goes sometimes, like being able to find your reading glasses when you don't need them.
It was a great trip and I look forward to the next one.
© Jack Stevison
Jack Stevison owns and operates a one-man investment management practice catering to small investors. His bio at Twitter sums it up nicely, "Professional risk manager for the little guy; investment management without all the sell-side b.s., Libertarian. Biker. Photographer. Runner."  Jack is a former Naval Photographer and he enjoys writing essays about his adventures running, hiking, and riding his motorcycle.  He earned his ticket to ride in the summer of 2011 and owns a 2012 Harley-Davidson Sportster XL1200C.
Honorable Discharge from the U.S. Navy, former Naval Photographer
Certified Financial Planner™ practitioner and Chartered Financial Consultant™
21 years experience in financial planning and investment management
Bachelor's Degree in Economics 
from Florida Atlantic University
Author of the book,
"How to Merge Your Money for Marriage" (currently out of print)