[Fish Creek, WI] — Nothin' says summer in Door County like spittin' cherry pits — unless you're talking about a Door County fish boil, of course, which I've written about previously.
You'll find so many cherries in Door County, you'd think they grew on trees. Oh, um, never mind, they do. The county is particularly well-known for its Montmorency cherries, a tart variety well-suited for cherry pies.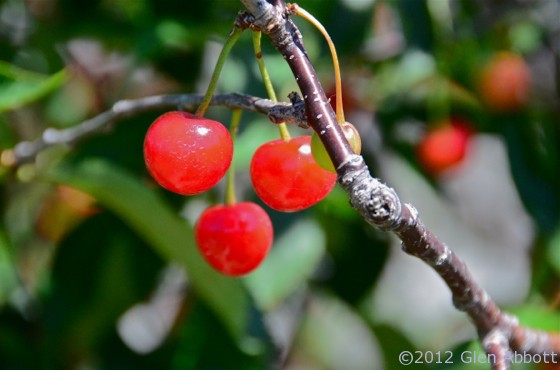 Door County's peninsula is one of the country's top cherry producers; you'll find 2,000 acres of orchards here. The trees blossom in springtime and are usually ready for picking between July and August. A typical harvest runs between 8 and 14 million pounds per season, although this year's number is down considerably due to an unseasonably warm spring — which caused the trees to bloom early — followed by a killing freeze. Nonetheless, the harvest is expected to be around 700,000 pounds this year.
That's a whole lot of cherry pits.
As you might expect, you'll find everything cherry in Door County — cherry wine, cherry jam, cherry salsa, and of course, cherry pie. At the Orchard Country Winery and Market, there's even a cherry pit spittin' range where you can measure your pit spittin' ability, complete with helpful distance markers.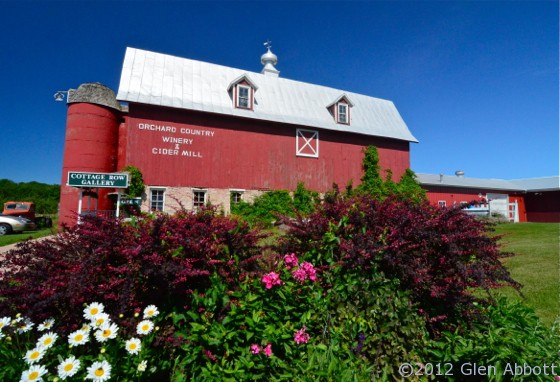 You can also buy tickets at the orchard for the Door County Trolley. Here tour guide Jim Sanden waits to take visitors on a scenic tour of the county
FOR MORE INFORMATION:
Orchard Country Winery & Market
9107 Highway 42
Fish Creek, WI 54212
Door County Trolley:
Wisconsin Cherry Growers Association:
http://www.wisconsincherries.org/
Door County tourism information:
(800) 52-RELAX