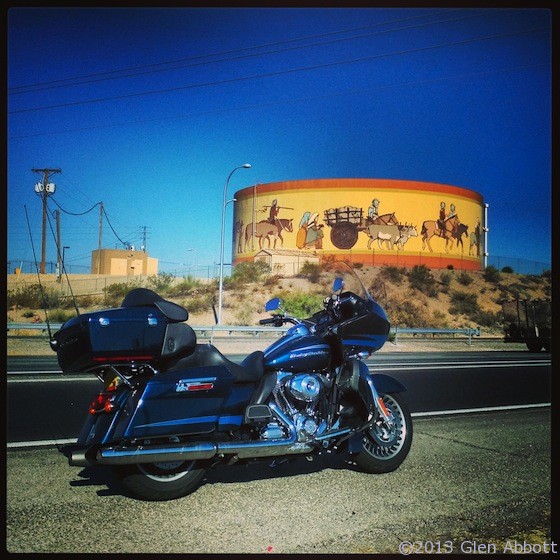 Las Cruces, NM — Both times I've been to Las Cruces, I noticed this striking mural on a water storage tank next to I-25.
The tank was perfectly lit by the morning sun as I returned to Albuquerque recently after a trip to Big Bend National Park in west Texas, so I pulled over to take a picture.
Later, I discovered that the mural is one of several by artist Anthony Pennock. His website has photos and the stories behind each mural, including this one, titled Jornada del Muerto.
From Pennock's website:
 Jornada del Muerto depicts the historical journey of the 16th century Spanish Conquistador, Don Juan de Onate, as he guided hundreds of soldiers through the treacherous heat of the northern Chihuahuan desert.   The tank was originally painted in January 1972, when Pennock was 17, and was thereafter reported in news outlets from New York City to Istanbul, Turkey, and would help to show as Gen. Hugh Milton said at its dedication ceremony, "[that] this is a land of many cultures, rich with history, where cultures intermingle [and where] strong men and ideas are born."  
Just goes to show you never know what you'll find on your journey.
____________________________________________________________________________
New Mexico tourism: www.newmexico.org
Las Cruces tourism: www.lascrucescvb.org
Anthony Pennock's website: http://lascruceswatertankmurals.com