Mardi Gras in Acadiana – south-central Louisiana's Cajun country – is a feast for all the senses.There's music – usually Zydeco or a lively Cajun two-step; food — gumbo, boudin, and cracklins; brightly colored costumes; and plenty of refreshments. Oh yes, there are plenty of refreshments.
Mardi Gras here is quite different than the one you'll find in New Orleans, though. It's about singing songs, making mischief, and chasing chickens, but mostly it's about family and friends.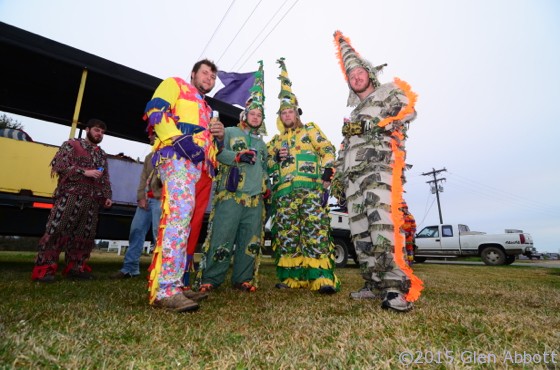 You have to get up early to celebrate Mardi Gras in Cajun country —  the participants in a Courir de Mardi Gras ("Fat Tuesday run") gather at dawn, dressed in brightly-colored costumes that often appear sewn together from mismatched pieces of fabric, wearing masks fashioned from wire mesh, and with peaked, conical caps — known as capuchins — atop their heads.
It's a tradition begun centuries ago, wherein working-class revelers mocked the wealthy elite, their homemade costumes designed to poke good-natured fun at the educated, religious, and noble hierarchies.
Today's courirs carry on the tradition — costumed revelers travel on horseback or on flatbed trailers from house to house, and quite literally "sing for their supper." "They do their Mardi Gras dance and Mardi Gras song, and the homeowner will give them ingredients for the gumbo that community members will share later in the evening," explains my friend Gene Falk, a born-and-bred Cajun and member of Lafayette, Louisiana's Cajun HOG chapter. Gene, his wife Mary, and friend Hal Wilson were my tour guides for Cajun Mardi Gras a couple of years ago, and took me to various celebrations in the small Louisiana towns of Mamou, Iota, and Eunice.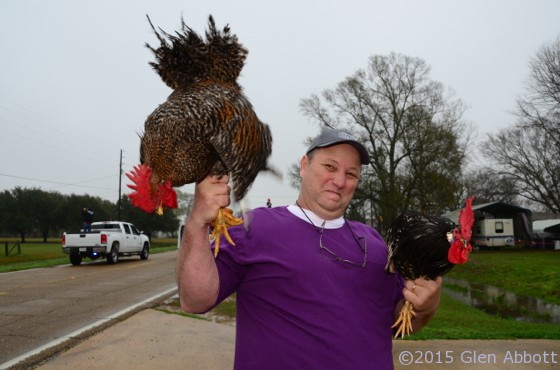 The ultimate prize is a live chicken: "The homeowner throws the chicken into the air," Gene says, "and there's a whole bunch of people in colorful uniforms that's whooping' and hollering' and trying to catch it, which is not an easy thing to do."
Making mischief is a big part of the celebration — revelers swing from tree limbs, spray each other with garden hoses, and generally create good-natured disorder at each of the stops. Lest they get out of hand, each courir is supervised by a whip-wielding capitaine and co-capitaines. "Get out of control or disobey me, or any of the co-capitains, and you'll get a whipping," explains Chris LeJeune, capitaine of LeJeune Cove Mardi Gras. "Some of these guys start drinking before seven o'clock in the morning, so by four o'clock in the afternoon, their liquid courage is up a lot, so they really don't care. If they gettin' whipped, they actually like it, and invite you to do it."
"The essential element of Mardi Gras is laughter," says Cajun folklorist Dr. Barry Ancelet. "Laughter of those being teased and laughter from the one doing the mischief."
Trust me, there's plenty of laughter, plenty of food, and plenty of fun at a Cajun Mardi Gras celebration.
And plenty of refreshments, of course.
VIDEO: Check out my video on Cajun Mardi Gras for HOG magazine: http://vimeo.com/80950112
FOR MORE INFORMATION:
Eunice, LA Mardi Gras: http://www.eunice-la.com/index.php/things-to-do/upcoming-events/mardi-gras
Iota, LA Mardi Gras: http://iotamardigras.com/main.html
Mamou, LA "Cajun Music Capital of the World:" http://www.louisianatravel.com/video/mamou-louisiana-cajun-music-capital-world 
PHOTO GALLERY: