Of all the activities that take place in and around Daytona Beach during Bike Week, the DeLand Bike Rally has always been one of my favorites. Held the first Saturday during Bike Week (which runs 3/6 – 3/15 this year), the one-day DeLand rally generally attracts some 50,000 visitors to this small historic city 20 miles to the southwest of its larger cousin, Daytona. Not bad for a town of 30,000 residents.
Sturgis-style, they close several blocks of downtown to all but motorcycle traffic, with bikes lining both sides and the middle of Woodland Blvd., the town's main street. Despite the crowds, it's generally a much more relaxed vibe than you find in Daytona.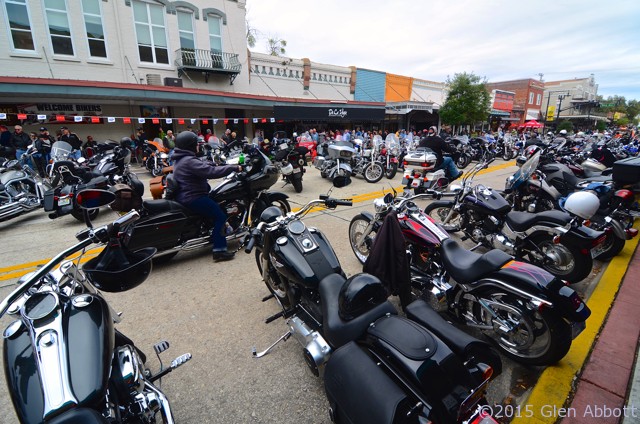 Besides the traditional rally food and merchandise vendors, DeLand offers lots of great local cafes, restaurants, and bars (and within the several block rally area, you're allowed to stroll the sidewalk with your cup of beer, something that is strictly prohibido in Daytona).
DeLand Bike Rally official page: http://delandrally.com
Places to check out:
Persimmon Hollow Brewing Co. – 111 W. Georgia Ave. – www.persimmonhollowbrewing.com (DeLand's recently opened first and only micro-brewery offers some damn tasty beer)
De La Vega Restaurant – 128 N. Woodland Blvd. – http://delavegart.com (Mexican restaurant serving "Latin Fusion" cuisine)
Pat & Toni's Sweet Things – 124 N. Woodland Blvd. – http://patandtonissweetthings.com (Damn fine homemade chocolates)
Photo Gallery DeLand Rally 2015: